Hello Family!!!
we celebrate 3 years of Triplag with one special compilation Trip Formation!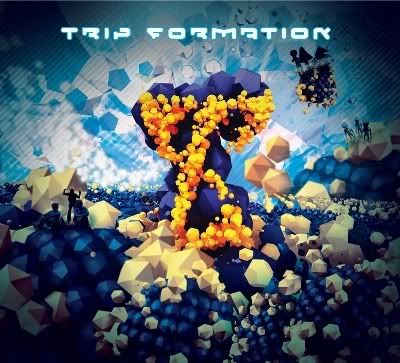 ~~~
- Hey! I've seen aliens last time!
- Ah sure you did!
They are always here, tripping with the local freaks on all the levels and searching for new music. Sometimes you see - sometimes you don't, but you can always hear.... Just tune in.
Maybe you can hear what is blasting now from red deserts of Mars to blue ice of Neptune. And here we have 15 tracks that are already making havoc on every alienrave across all the solar system! Now being smuggled back to our planet for special occasion - 3 years Triplag!
~~~
ID - TRPLGCD005
Artist: Various
Name: Trip Formation
Label: TRIPLAG MUSIC
Genre: Dark Psytrance
Date: July 2008
Format: CD
Length: 79:40
01- DarkOhm - Brain Slicer
02- Baphomet Engine - Blix
03- Diablos - White Disaster
04- Audiopathik - Devil Making Faces
05- Oxidelic - Legalize It
06- Massive Noise - Freestyla
07- Olien - Bramana
08- KalilaskovAS vs NoiseGust - Evil Computer Crash
09- Somarobotics Vs Spiralz - Riot Pleasure
10- CPC - Terror
11- Far East Ghost vs Sysyphus - Gestalt Collapse
+ Bonus download tracks from
Neutral Ethos - Ruffest
Skoll - Neo Crackin'
Rawar - Round World
Xxipz - Slavyanskii Rap
Mastered by Takeomi Far East Ghost ( Heaven & Hell Masters. Japan)
Artwork by Delian Oxidelic
Produced by Vic Triplag
Distributed by SaikoSounds :
www.saikosounds.com
Inside CD case you will find Triplag Music sticker and instructions on how to get bonus tracks.
happy forming!
official release page:
http://www.triplag.com/music/cd/V.A.-.Trip.Formation/
CD promo mix :
http://www.triplag.com/sound/mixed/VATr ... omoMix.rar
By now links:
SaikoSounds
,
BeatSpace
,
PsyShop
,
Wirikuta