Namaste!
Triplag Music is proud to present 2nd album by one of the leaders of undergorund darkpsy movement in Japan: Far East Ghost
ID: TRPLGCD008
Artist:
Far East Ghost
Name: Emperor
Label: TRIPLAG MUSIC
Genre: Dark Psytrance
Date: May 2009
Format: CD
Length: 127:17
6 panels Digi Pack with DJ insert
All trax written & produced by Takeomi Matsuura at Heaven+Hell Studio, Japan
Mastered by Takeomi Matsuura (Heaven+Hell Masters, Japan)
Artwork by JUNKroid+designs
Asia distribution: SaikoSounds
Rest of the world distribution: Wirikuta
The long awaited second album from Far East Ghost from Triplag Music is a two-disc album containing 15(+2 bonus) tracks.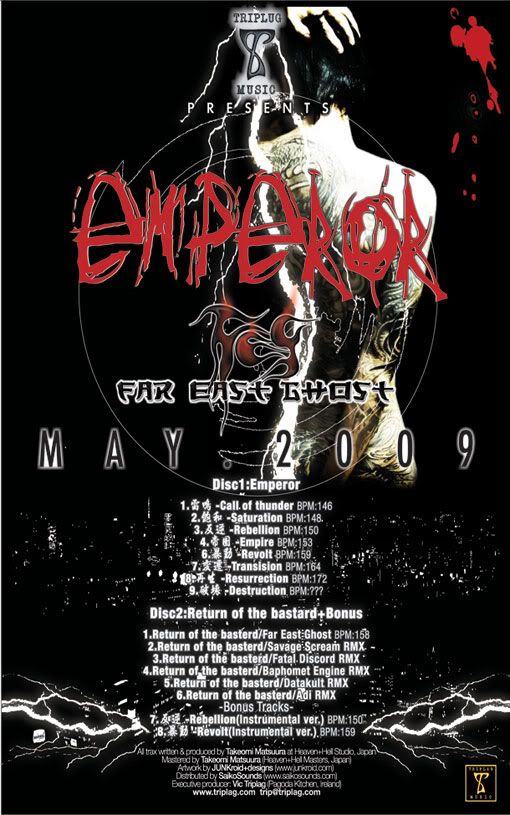 The first disc -- titled Emperor -- is a conceptual album unleashing 9 never-before-heard solo tracks based on the motifs of the spiritual empire and emperor that resides within the mental realm each individual. All vocals, guitars, drums, bass, and other instruments, along with production and mastering are done completely by Takeomi himself without any compromise, enabling the listener to enjoy the complete package brought forth from the Far East Ghost Empire.
The second disc, called "Return of the Bastard", is a remix extravaganza of the original Far East Ghost track with the same name - featuring Far East Ghost's esteemed conspirators, Savage Scream, Fatal Discord, Baphomet Engine, Datakult, and Adi. To simply call this a bonus disc would be an injustice -- check out how Far East Ghost's fast and heavy metallic sound is chopped, diced, and prepared by these master chefs.
Disc1: Emperor
1. Call of thunder [BPM:146] 8'18"
2. Saturation [BPM:148] 8'35"
3. Rebellion [BPM:150] 7'37"
4. Empire [BPM:153] 7'43"
5. Emperor [BPM:156] 7'17"
6. Revolt [BPM:159] 6'49"
7. Transision [BPM:164] 7'07"
8. Resurrection [BPM:172] 7'46"
9. Destruction [BPM:???] 5'12"
Disc2: Return of the bastard + Bonus
1.Return of the basterd/Far East Ghost [BPM:158] 7'45"
2.Return of the basterd/Savage Scream RMX 8'17"
Remixed by Mizuki Nishihata at Savage studio, Japan
3.Return of the basterd/Fatal Discord RMX 8'01"
Remixed by Masayoshi Suzuki @ Kamitukai studio, Japan
4.Return of the basterd/Baphomet Engine RMX 8'02"
Remixed by Luiz Fernando Secchinatto @ Psyhamaa lab[Baphomet base02], Brazil
5.Return of the basterd/Datakult RMX 6'42"
Remixed by Remixed by Raphael Befort at Datakult Studio, France
6.Return of the basterd/Adi RMX 7'38"
Remixed by Adi at the 333, India
Bonus Tracks
7. Rebellion(Instrumental ver.) [BPM:150] 7'38"
8. Revolt(Instrumental ver.) [BPM:159] 6'50"
Release page
http://www.triplag.com/music/cd/Far.Eas ... -.Emperor/
Buy from following shops:
http://www.saikosounds.com/english/disp ... sp?id=7874
http://www.wirikuta.at/web66/product_de ... ail=219041
http://www.beatspace.com/dettagli/dettaglio.asp?id=4943
http://www.goastore.ch/product_info.php ... ts_id=3127
2009 © TRIPLAG MUSIC™. All rights reserved. Unauthorised duplication, broadcasting & distribution is prohibited.
TRIPLAG® is a registered Trade Mark. Unauthorised use is prohibited.
Far East Ghost would love to say thanx to all the people who supported.