Mind-Expansion Records and Axis Mundi present: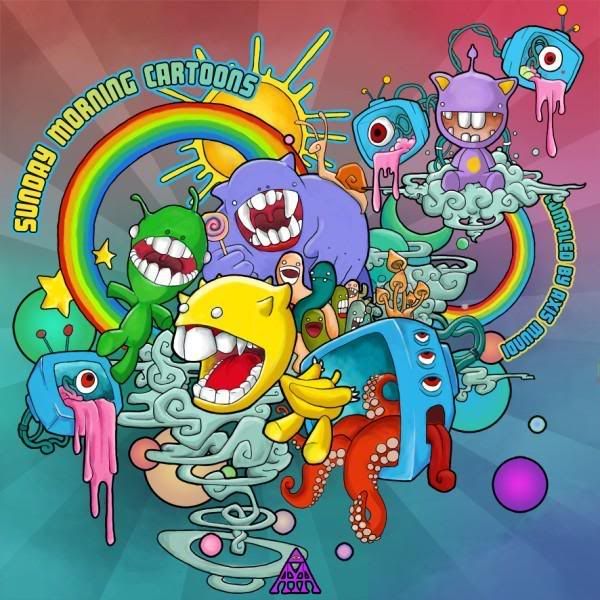 V/A - "Sunday Morning Cartoons"
It's Sunday morning, just after a particularly mind-bending weekend-long party. Sleep last night was still out of the question, and your reality still feels like a broken stained-glass window slowly mending itself back together. Thick bassbeats still chug along between your ears, like a train with oval-shaped wheels. A comfortable bowl of cereal, a fresh pair of pajamas, and a left-handed cigarette accompany you as you curl up in your favorite sofa or chair as you attempt to unwind to your favorite child- and adulthood animations.
"Sunday Morning Cartoons" is a concept compilation, blending kiddish humor with heavy beats, twisted sounds, and oddly familiar effects and voices twisted more than a tad awry.
I wish to thank all of the musicians, audio engineers, visual artists, and general supporters for their efforts into making this a grassroots compilation where pretentiousness and ego have been discarded in favor of a focus on experimentalism, creativity, artistry, and a general love of the music.
These ten tracks showcase an awesome worldwide range of both well-established and up-and-coming talent, whose sounds range from acid trance to dark psychedelic, from minimal and atmospheric to funky and twisted to relentless and in-your-face. I feel there is a bit on here for everyone to enjoy. Once again, thank you everyone for your support.
Title: V/A - "Sunday Morning Cartoons"
Compiled by: Axis Mundi
http://www.myspace.com/psyaxismundi
Format: CD
Label: Mind-Expansion Records
http://www.mind-expansion.net
Release Date: 2010-08-04
Mastered by: XaBBu
http://www.myspace.com/nfoxabbu
Cover art: Ayalien
Distributed by: Saikosounds
http://www.saikosounds.com
Tracklist (in alphabetical order):
Dark Whisper - Sunday Morning Cartoon
http://www.myspace.com/darkwhispermusic
FaceHead - Bad Trip
http://www.myspace.com/facehead
Jesus Raves - Yoda Is Pissing On EU
http://www.myspace.com/projectjesusraves
Khaos Sektor - Xama Tutsi
http://www.myspace.com/khaossektor
Mubali - Full Frontal Nerdity
http://www.myspace.com/mubalitrax
Sectio Aurea - In Mathmagic Land
http://www.myspace.com/boomsectioaurea
Somadelic - Evolution
http://www.myspace.com/somadelic
Toxic Anger Syndrome - Pizza Pie
http://www.myspace.com/toxicangersyndrome
Unwashed Tomato - Wood Court
http://www.myspace.com/unwashedtomato
Zero-Blade - Cosmic Anomaly
http://www.zero-blade.com
Once again, thank you to all involved for your support! You kick ass and I love you all
~Axis Mundi
_________________
Get it here:
http://www.saikosounds.com/english/disp ... sp?id=8540
http://www.beatspace.com/dettagli/dettaglio.asp?id=5862
http://www.wirikuta.at/web66/product_de ... ail=242400