ID : TRPLGCD013
Artist:
Vic Triplag
Name:
Imaginarium
Label:
TRIPLAG MUSIC
Genre: Dark Psytrance
Date: 11/11/11
Format: CD
Length: 73:28
4 panels Digi Pack
Compiled and mixed by: Vic Triplag
Track 1,2,5,6 - Mastered by: Colin Bennun at The Stooodio, UK
Track 4 - Mastered by: System Crash (Germany)
Track 3,7,10 - Mastered by: Heaven & Hell Masters (Japan)
Track 8,9,11 - Mastered by: Mastering Online (Germany)
Track 9 was previously released on Fish'n'Trips Records (Austratia)
Illustrations by: Valentina Kallias
Finished art by: Barry O'Reilley
Distributed by: SaikoSounds
From the beginning of Triplag project in 2005 as DJ Vic has put together and released many compilations on CDs and digital media. Working tirelessly on promoting and spreading his favorite style of psychedelic trance Vic and Triplag Music have given an opportunity to many various artists to present their music to a wide audience. Vic's vision and support from fellow artists helped to established Triplag as one of the influential darkpsy community and record label.
With this release Vic makes a next step in label's evolution when DJ delivers music to the listener in a form of a continues sound journey through his own imagination and not just collection of single tracks.
Imaginarium is a mix of tracks that were acquired over a period of 1.5 years and played by Vic all over the world in club parties and open-air festivals. It brings together various flavours of darkpsy genre that over the years have defined and shaped as Triplag Music and subsequently as Vic's own DJ style.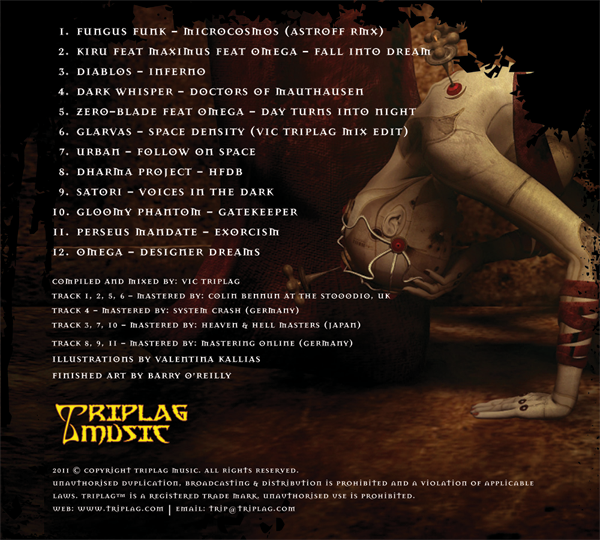 TRACK LIST
01. Fungus Funk - Microcosmos (Astroff rmx)
02. KiRu feat Maximus feat Omega - Fall into Dream
03. Diablos - Inferno
04. Dark Whisper - Doctors of Mauthausen
05. Zero-Blade feat Omega - Day Turns Into Night
06. Glarvas - Space Density (Vic Triplag mix edit)
07. Urban - Follow On Space.
08. Dharma Project - HFDB
09. Satori - Voices In The Dark
10. Gloomy Phantom - Gatekeeper
11. Perseus Mandate - Exorcism
12. Omega - Designer Dreams
01. w&p Sergei Prilepa (RU)
02. w&p Eugene K. and Khapaev Maksim (RU)
03. w&p Takeomi Matsuura & Mizuki Nishihata (JP)
04. w&p Manuel Bellini (IT/GER)
05. w&p Kristiyan Karev (BG)
06. w&p Gleb (RU)
07. w&p Vitek (RU)
08. w&p Luca Kagasotto (IT)
09. w&p Rory Robinson (AUS)
10. w&p Timo Coerdt (GER)
11. w&p Gloomy Phantom and Pan Gohr (GER)
12. w&p Chris Cox (US)
Special thank you to Chris Cox a.k.a. Omega for lettig us use Designer Dreams steams throughout this mix!
Official release page :
http://www.triplag.com/music/cd/Vic.Tri ... aginarium/
" onclick="window.open(this.href);return false;
Available from:
SaikoSounds
,
BeatSpace
PsyShop
,
Goa Store