Dear friends,
We are happy to announce Triplag Music mini tour in Canada and USA in September 2011
Triplag Music NorthWest America mini Tour in association with Earthdance Global Peace 2011 celebration :
- Sat. Sept. 17th *Dance for Peace* Vancouver indoor event.
Fundraiser for Earthdance Vancouver 2011
Vic Triplag
Waater
Ganika
<more tba>
- Sat. Sept 24th *EarthDance NorthWest 2011* Oregon Outdoor 3 days festival [23_25].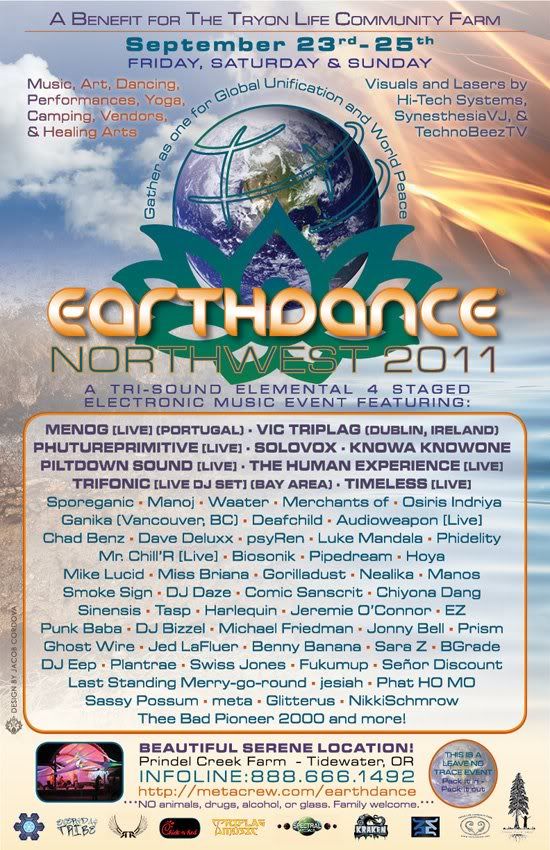 EARTH
------------------
Vic Triplag (Triplag Music - Ireland) ::
http://triplag.com/
Menog [Live] (Spectral Concepts Records - Portugal) ::
http://www.myspace.com/menog
Solovox :: PDX
http://www.solovox.com/
Ganika [Triplag Music, Godizus] (Vancouver, BC)
psyRen [Metacrew, Shaktiajna] PDX
DJ Bizzel :: SEA
Waater [Metacrew, Triplag Music, Molecular]
http://www.triplag.com/
Deafchild [SunriseSocialClub] PDX
Jeremie O'Connor [Metacrew] EUG
Gorilladust [SunRiseSocialClub, NW-PSY] PDX
Plantrae [Live] :: PDX ::
http://www.soundcloud.com/plantrae
Sinensis [Metacrew] ::
http://www.metacrew.com/
Smoke Sign [Zenon Records, Elephant Head Records] EUG ::
http://www.myspace.com/elephantheadrecords
Nealika [Metacrew/Psytribe] ::
http://www.metacrew.com/
/
http://www.psytribe.com/
Punk Baba [Catsup Crew] PDX ::
http://soundcloud.com/punkbaba
Comic Sanscrit [Chickenhed] PDX ::
http://www.chickenhed.us/
Tasp [Metacrew] PDX
http://www.metacrew.com/
DJ Eep [Geomagnetic] :: EUG ::
http://geomagnetic.tv/
For full line up on other stages and lots of more useful info please visit website
http://www.metacrew.com/earthdance/
or facebook page
http://www.facebook.com/event.php?eid=130952170332249